When it comes to epic whitewater rafting, the majestic rivers of the Rocky Mountains are second to none. In the state of Colorado alone, there are more than a dozen commercially rafted rivers. From April through September, the rivers and creeks of the Centennial State run the gamut from mild family friendly floats to Class V white knucklers that are strictly experts only.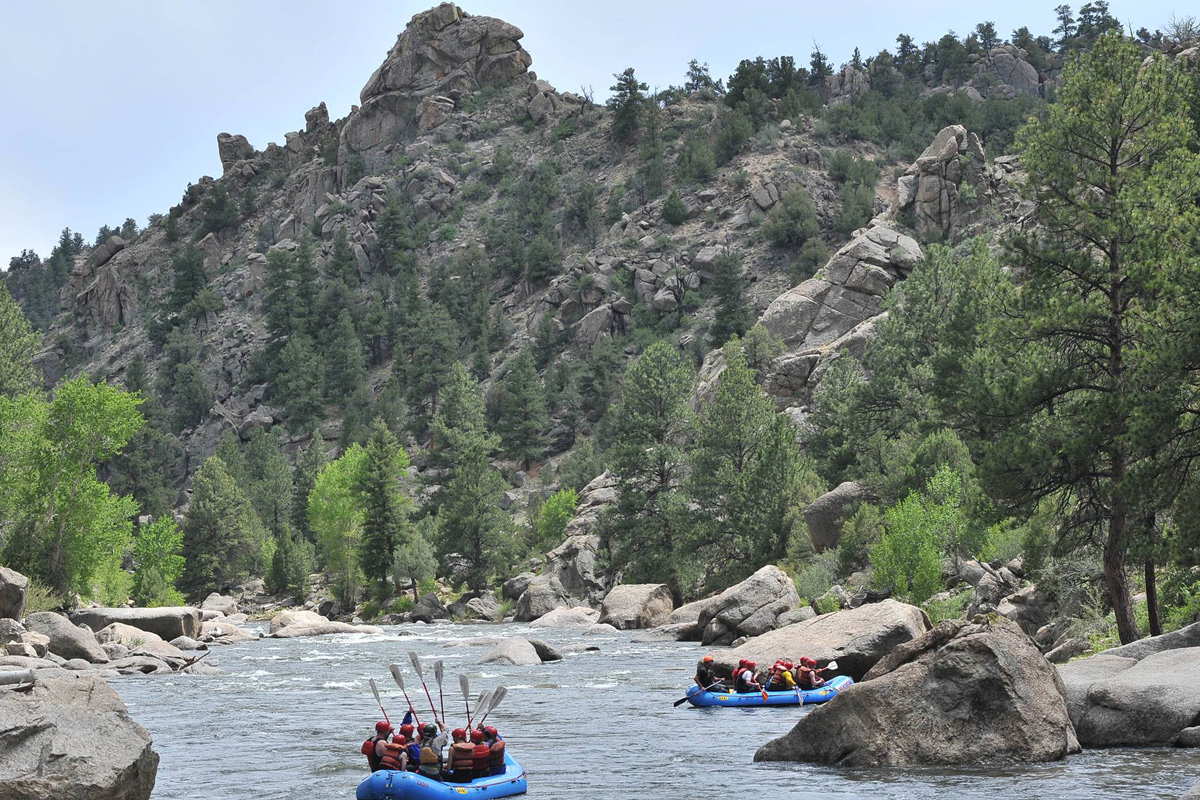 Outfitters in every corner of the state offer half-day and full-day journeys on the river, and there are even a few overnight camping trips. Commercial guides often run group specials and other promotions that can save you money on the best trips on the finest rivers. When you're ready for the ride of a lifetime, consider one of these awesome rivers in Colorado that are perfect for whitewater rafting. We've picked our Top 10 below, along with a few honorable mentions.
#10 – Dolores River (Cortez/Durango)
The Dolores River in southwest Colorado is a rafting hot spot from April to June. The river has about 175 miles of raftable waters that travel down stunning canyons with a few exciting drops. There are beautiful remote sections with some riveting Class III rapids. Most whitewater trips depart from the nearby town of Cortez, and there are longer runs that begin further upstream in Durango.
The best time to hit the Dolores River is typically in May, when the water level and conditions are ideal. Cortez and Durango are excellent vacation towns with lots to do and see. Both towns embody the true essence of the West. This river would probably rank higher on the list if the window of opportunity weren't so limited. But if you're looking for a picture-perfect early season run near Durango, the Dolores River is a can't-miss.
#9 – Blue River (Breckenridge/Summit County)
The Blue River in Summit County is immensely popular for several reasons. First, it's the closest whitewater rafting experience close to Breckenridge, Copper Mountain, Frisco and Keystone. Second, a trip down the river does not disappoint. There are breathtaking mountain views, natural wildlife and endless bluebird skies. Third, the river presents quick-flowing rapids that offer thrills around every bend. Fourth, the river has excellent sections for all rafting abilities during most of the summer. And that's just a few reasons!
The Blue River is only a 15-minute drive from downtown Breckenridge. It's ideal for guests on a tight schedule looking to squeeze in a quick rafting trip. One "express tour" covers several miles of whitewater in less than two hours. Full-day trips offer a more complete experience and traverses even more terrain.
#8 – Piedra River (Pagosa Springs)
The Piedra River is a tributary of the mighty San Juan River. The river flows about 20 miles west of Pagosa Springs and 40 miles east of Durango. At Arboles, it joins with the San Juan River, emptying into Navajo Reservoir. The Upper and Lower sections of the Piedra River are both exceptional trips. "Piedra" means "rock" in Spanish – it is often best described as "The River of Stone Wall."
The Upper Piedra River is northwest of Pagosa Springs. The section has wonderful Class II, Class III and Class IV rapids that are best suited for rafters more than 12 years old. The Lower Piedra River is a step up from the Upper section, with several huge drops in a 1,000-foot-deep box canyon. The Lower section is best for rafters over age 16, as there are Class IV+ rapids.
One popular overnight journey is to tackle the Upper Piedra River the first day, stay overnight, and conquer the Lower Piedra (box) section the following day.
#7 – Roaring Fork River (Aspen/Basalt)
From Aspen to Glenwood Springs, the Roaring Fork River is an iconic whitewater experience deep in the heart of the White River National Forest. The crystal-clear river has a massive watershed that serves up powerful rapids from March through September.
Although it's called the "Roaring Fork," that doesn't mean the river is overly treacherous. There are nice sections of the river that are terrific for families with seniors and young children. The river offers a variety, from easy Class II sections to Class V thrillers.
The Slaughterhouse section near Aspen has big rapids and narrow waterways for about four and a half miles, including the famed Slaughterhouse Falls. Rated Class IV and Class V, Slaughterhouse is only for experts. More mild sections are further down river, near Woody Creek and Cemetery Lane. The Cemetery section travels six miles between the Black Bridge Access and Two Rivers Park in Glenwood Springs. The scenery and simplicity make it an idyllic first whitewater rafting experience.
#6 – Cache La Poudre River (Estes Park/Fort Collins)
Most of Colorado's whitewater rafting is deep in the Rocky Mountains, but the Cache la Poudre River on the northern Front Range has an exciting stretch of river just west of Fort Collins. "The Pooder" is less crowded than most rivers, but offers a mild section along with a more intense stretch for adventure seekers.
The ride down scenic Poudre Canyon has Class II and Class III rapids that make for a fun half-day or full-day trip for beginners and intermediates from mid-May through September. The water hits its peak in August and September. The river flows along the Cache La Poudre-North Park Byway, a picturesque drive from Fort Collins to Walden. The river is designated as a national wild and scenic river.
#5 – Yampa River (Steamboat Springs/Dinosaur)
The Yampa River in northwest Colorado has relaxing, multi-day lazy floats with lots of sun, indigo skies and epic scenery. The river is the longest, non-dammed river in the state with some whitewater delights along the way. At Dinosaur National Monument, the Yampa River meets up with the Green River.
The Yampa River serves up Class III and Class IV rapids from May through July. The best sections can be encountered on a multi-day camping and rafting expedition lasting four or five days. Most overnight trips on the Yampa River meet up in Vernal, Utah and shuttle out from there. Shorter half-day and full-day trips launch daily from downtown Steamboat Springs from May to early June.
#4 – Animas River (Durango/Purgatory)
Durango is a leading destination in southwestern Colorado for its rich history, authentic Western vibe, distinctive narrow-gauge railroad and endless list of family friendly activities. During the summer, the Animas River has leisurely floats and seething whitewater rapids on half-day and full-day outings.
The Lower Animas River flows through downtown and is the easier of the two sections, running though the manmade rapids of Durango Whitewater Park. The Upper Animas River starts just north of Durango near Purgatory. The upper section is longest, continuous stretch of Class IV and Class V rapids in the United States. More than 30 miles of incomparable thrills!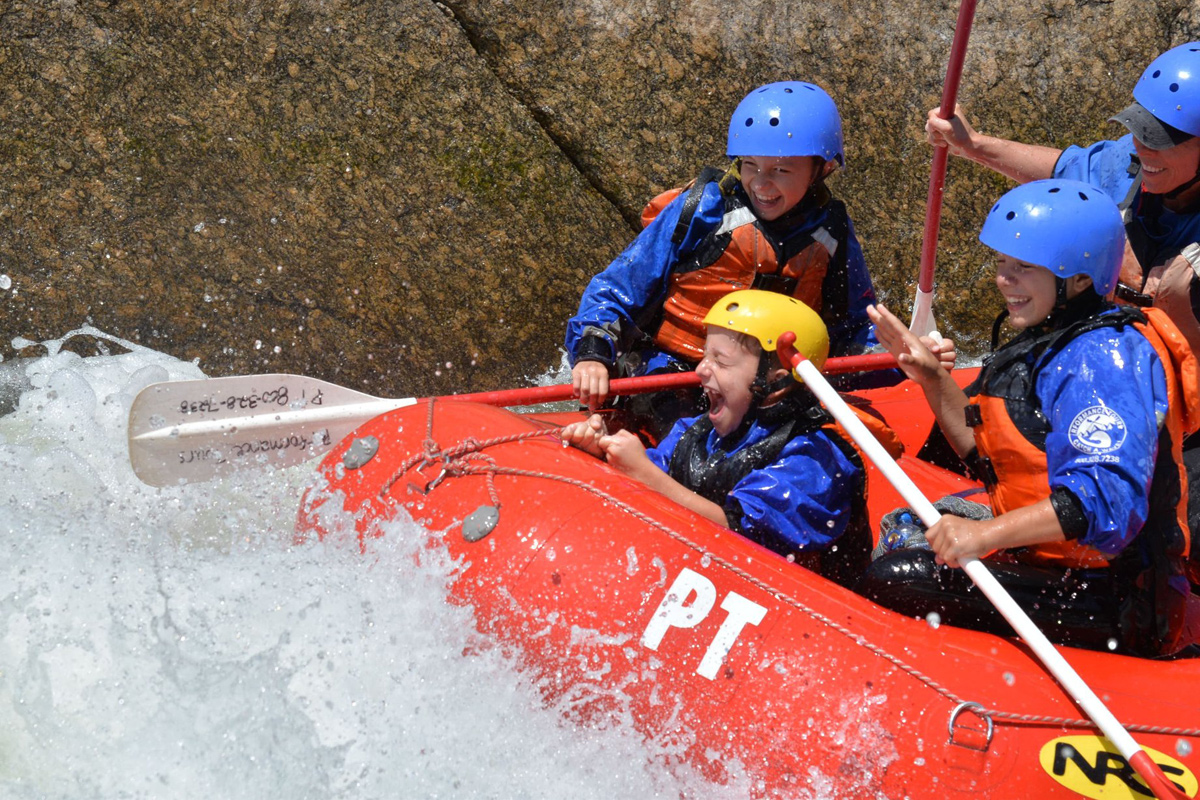 #3 – Clear Creek (Idaho Springs)
If you've ever driven west along Interstate 70 near Idaho Springs, you've probably caught a glimpse of how fun the rafting on Clear Creek can be. The creek presents Denver's closest whitewater rafting option, only about 30 miles west of downtown. The easy river flows through a wide canyon with entertaining technical rapids and some steep drops. In fact, Clear Creek is the steepest commercially rafted river in Colorado.
If you're looking for a quick whitewater experience, you can't go wrong at Clear Creek. Several outfitters run sections of the river, and there are suitable parts for beginners, intermediates and expert paddlers. The river is easily accessible and there's ample wildlife and scenery to take in. Both half-day and full-day trips are available rafting Clear Creek.
#2 – Arkansas River (Buena Vista/Salida/Cañon City)
The Arkansas River is the most rafted river in the state. The river's headwaters originate near Leadville and flow south past Buena Vista, Nathrop and Salida before turning east to Cañon City and Pueblo. One of the most well-known sections of the Arkansas River is Royal Gorge. The advanced section of river has Class IV and Class V rapids through a narrow canyon and under an iconic suspension bridge. It's one of the most well-known whitewater routes in North America.
There are a few other exciting sections along the Arkansas River that are great for a half-day or full-day trek. Adrenaline junkies will enjoy The Numbers by Buena Vista while families should try the Brown's Canyon National Monument section of the river between Nathrop and Salida. Another excellent run is Bighorn Sheep Canyon near Cañon City.
#1 – Colorado River (Glenwood Springs and Kremmling)
There are so many great sections of the Colorado River to raft, that it's hard to narrow down the list. First, there are family friendly trips down beautiful Glenwood Canyon near Glenwood Springs that are ideal for kids, seniors or a mixed group.
For something more intense, Gore Canyon has fierce, raging whitewater that is sure to put a smile on an expert rafter or kayaker. The epic section near Kremmling is expert only! The Colorado River boasts numerous Class IV and Class V rapids that are monstrous when the CFS is high.
There are awesome overnight camping and rafting trips that originate in Glenwood Springs and offer pitstops along the way at a remote hot spring on the banks of the river. Off the river, Glenwood has a fun Adventure Park and a robust history with several points of interest in and around town.
Honorable Mention
Want to make a splash with something a little different? There's no shortage of rivers in Colorado to get your fix. Check out these other rivers in Colorado that are great for whitewater rafting, but just barely missed our Top 10.
Eagle River (Vail)
Gunnison River (Delta)
North Platte River (Walden)
Rio Grande River (Creede)
San Juan River (Pagosa Springs)
San Miguel River (Telluride)
Taylor River (Crested Butte/Gunnison)