In the picturesque mountains of British Columbia, Canada, Whistler Blackcomb is a mecca for mountain biking enthusiasts from around the globe. Renowned for its vast trail network, breathtaking landscapes, and world-class amenities, this destination offers an unforgettable biking experience.
Mountain biking at Whistler Blackcomb is not just a sport; it's a way of life. Whether you're a seasoned downhill expert or a novice looking to embark on your first biking adventure, this guide has everything you need to know to make the most of your time at this mountain biking paradise.
When to Visit
The park is open during the warmer months, from late spring to early fall, typically from May to October, depending on weather conditions. During this period, the mountains come alive with colorful wildflowers, lush forests, and stunning panoramic views, providing a genuinely immersive biking experience.
The best time to visit depends on your preferences and skill level:
Spring (May to June): Ideal for experienced riders seeking cooler temperatures and less crowded trails. However, some higher-elevation trails may still have snow.
Summer (July to August): The peak biking season with the most extensive trail access. Expect warmer weather and a bustling biking community.
Fall (September to October): A great time to enjoy the stunning fall foliage and quieter trails. However, some routes may close earlier in the season due to weather conditions.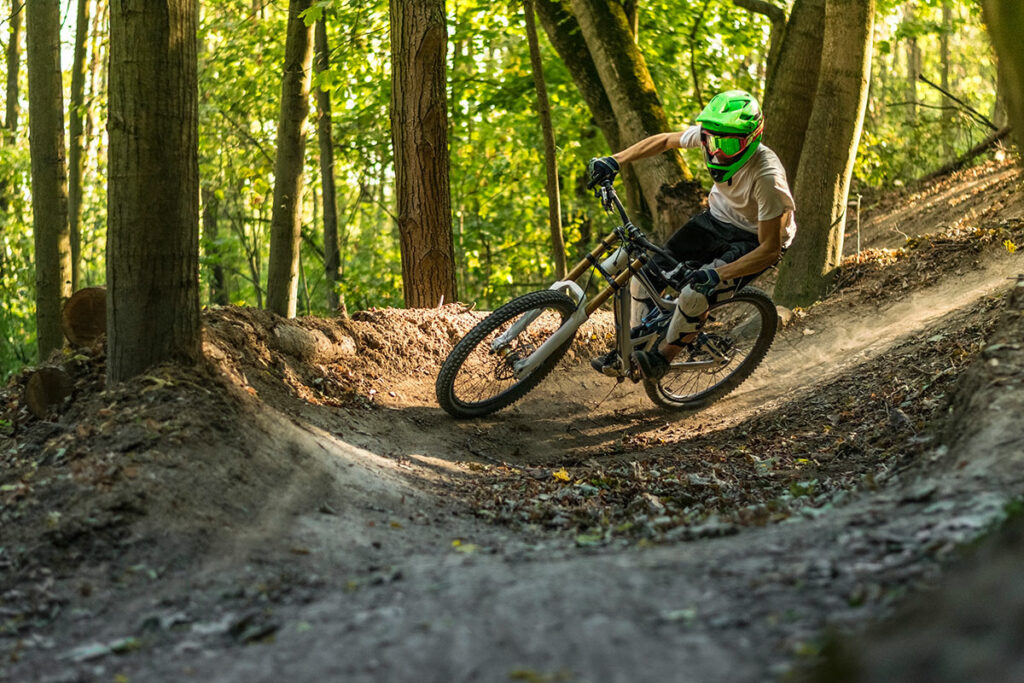 Understanding the Terrain
Whistler Mountain Bike Park is a world-renowned destination for mountain bikers of all levels. Sprawling across Whistler and Blackcomb mountains, the park offers an extensive trail network, totaling over 80 trails spanning more than 300 kilometers. Whether you're a beginner or a seasoned pro, you'll find routes tailored to your skill level, making it the ideal location for riders to progress and challenge themselves.
Whistler Mountain Bike Park caters to riders of all abilities, ensuring everyone can enjoy the thrill of mountain biking amidst breathtaking surroundings. The trails are categorized based on difficulty levels, which are indicated through a color-coded system:
Green Trails (Beginner)
Ideal for first-time mountain bikers and families with children
Gentle slopes and wide trails for easy navigation
Focus on building confidence and fundamental biking skills
Blue Trails (Intermediate)
Suitable for riders with some mountain biking experience
Gradual descents with minor technical features
Opportunities to improve skills and progress to more challenging trails
Black Trails (Advanced)
Geared toward experienced riders with a good level of fitness
Steeper descents, technical features, and obstacles
Require more technical ability and bike control
Double Black Trails (Expert)
For seasoned riders seeking the ultimate adrenaline rush
Extremely challenging with steep drops, tight turns, and significant obstacles
Demand excellent technical skills, confidence, and advanced bike handling
Riding Zones
Whistler Mountain Bike Park is divided into distinct zones, each offering its own unique characteristics and riding experiences:
Fitzsimmons Zone
Located on Whistler Mountain, it's home to beginner and intermediate trails
Features well-maintained flow trails, perfect for progression
Offers a variety of jump lines for honing aerial skills
Garbanzo Zone
Known for its long and fast descent
A mix of blue and black trails catering to intermediate and advanced riders
Stunning alpine scenery and challenging technical sections
Creekside Zone
Offers a laid-back atmosphere and access to beginner and intermediate trails
Quieter than the main village area, providing a more relaxed riding experience
Peak Zone
Accessed by the Peak Chairlift, it offers breathtaking views and diverse trails
Features alpine terrain with a mix of intermediate and advanced trails
Riding at higher elevations for a unique mountain experience
Recommended Trails
Here are some of the best mountain biking trails at Whistler Blackcomb:
Beginner-Friendly Trails (Green)
Easy Does It: A smooth and gentle trail for beginners, providing an introduction to mountain biking with minimal obstacles.
B-Line: Perfect for progressing from the easiest trails, offering small jumps and rollers.
Intermediate Trails (Blue)
Crank It Up: A fun flow trail with berms, jumps, and rollers, allowing intermediate riders to improve their skills.
Blue Velvet: A classic intermediate trail with technical sections and features for a balanced challenge.
Ride Don't Slide: A lesser-known trail that offers a mix of flow and technical sections, providing a unique and enjoyable experience.
Advanced Trails (Black)
A-Line: One of Whistler's most famous trails, featuring large jumps, tabletops, and berms, providing an adrenaline-pumping ride for advanced riders.
Dirt Merchant: A technical jump line with prominent features for experienced riders seeking an exhilarating downhill experience.
Top of the World: Accessed by the Peak Chairlift, this alpine trail offers breathtaking views and challenging riding for experienced bikers.
Whistler Downhill: The ultimate downhill experience, this trail takes riders from the top of the Fitzsimmons Zone to the base, offering a diverse range of features and terrain.
Lord of the Squirrels: A backcountry trail with technical challenges, rewarding riders with stunning alpine scenery.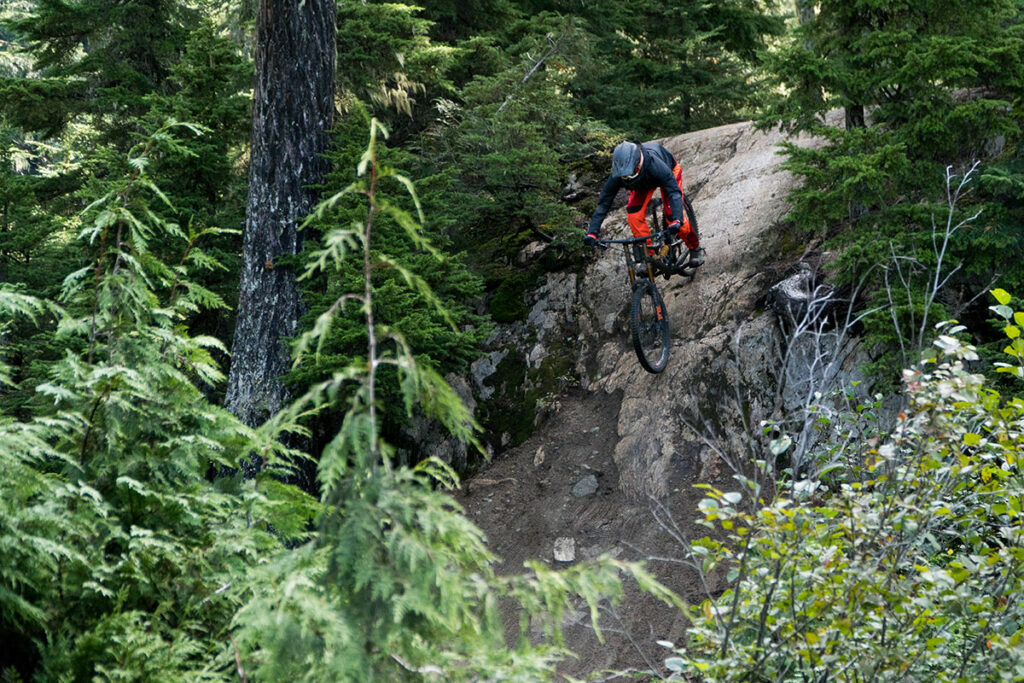 Lessons and Guided Tours
Guided tours and lessons are excellent ways to maximize your mountain biking adventure at Whistler Blackcomb, whether you're looking to improve your skills, gain insider knowledge of the trails, or enjoy the company of other biking enthusiasts.
Mountain Biking Lessons
If you're new to mountain biking or seeking to advance your riding abilities, taking lessons at Whistler Blackcomb can significantly enhance your skills and confidence on the trails.
Certified instructors provide personalized guidance tailored to your skill level and learning pace.
Instructors lead groups along appropriate trails, ensuring a safe and enjoyable experience.
Receive expert feedback on your riding technique and tips to overcome challenges.
Learn about the park's features, hidden gems, and scenic spots from those familiar with the area.
Guided Tours
Whistler Blackcomb offers a range of guided tour options catering to various interests and skill levels:
Private Tours: Ideal for individuals or groups seeking a personalized experience with a dedicated guide.
Group Tours: Join a guided group tour with like-minded riders to explore the trails together.
Themed Tours: Some operators offer specialized tours on specific riding styles, such as downhill, cross-country, or technical riding.
Trip Preparation
As you prepare for your adventure, keep these seven key points in mind:
Understand the Terrain: Familiarize yourself with the trail difficulty ratings and zones to select the best trails that suit your skill level and preferences.
Gear Up: Ensure you have the right biking gear and protective equipment and take the time to train physically and mentally for the challenges that lie ahead.
Plan Wisely: Consider the best time to visit, explore various accommodation options, and choose the ticketing option that fits your biking schedule.
Ride Responsibly: Adhere to trail etiquette, yield to other trail users, and maintain a respectful attitude towards the environment and wildlife.
Take Lessons and Guided Tours: Enhance your skills, confidence, and trail knowledge through lessons and guided tours led by certified instructors and experienced guides.
Explore Beyond the Trails: Embrace the beauty of Whistler Blackcomb beyond mountain biking by indulging in hiking, sightseeing, and embracing the vibrant après-bike scene.
Capture the Memories: Immortalize your experiences with captivating photos using the right photography gear and share your adventures with others.
Whistler Blackcomb promises an unforgettable mountain biking journey, whether you're a beginner seeking gentle slopes or an expert looking for heart-pounding descents. So, pack your bags, buckle your helmet, and prepare for the ride of a lifetime!