Wait … a roller coaster in the mountains? Yep, it's true, and it's happening all over the place.
In an effort to bring more diversity to summer mountain adventures, many top summer mountain resorts have been adding alpine slides and mountain roller coasters to their list of warm-weather outings. Major mountain resorts like Park City, Winter Park and Mount Hood are constructing some pretty awesome rides amid the timber and wildlife. If you're looking for an electrifying experience this summer, take a close look at a hair-raising ride on an alpine slide.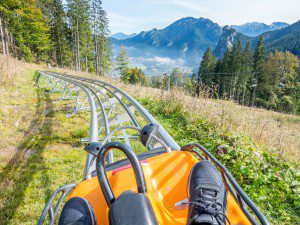 Most alpine slides operate during the summer months, mainly June through September. Since these slides are outdoors, you'll need to keep a close eye on the weather as you handle your planning. Slides will not be in operation if the weather is bad (rain, mostly). To ride on an alpine slide, you'll need to purchase a ticket and sign a liability waiver. Be sure to check the rules about age and height restrictions if you have young adventurers. Many alpine slides will allow smaller children to ride with an adult driver.
Alpine slides are mostly accessible via a chairlift, much like skiing. You can ride the chairlift up the mountain, and ride the slide down. Most alpine slides are conveniently located near the chairlift for easy access.
Ready to ride? Below, we've outlines five of the top alpine slides in the western United States: Steamboat Springs, Winter Park, Park City, Purgatory Resort in Durango, Colo., and Mount Hood in Oregon. Let's take a closer look at our Top 5 Alpine Slides.
Steamboat Springs
In Steamboat Springs, the Howler Alpine Slide at the top of Howelsen Hill provides 2,400 feet of downhill excitement during the summer months. Easily accessible by chair lift, this alpine slide puts you in control of your sled as you travel through the beautiful natural wilderness. Along the ride, you'll also see views of Mt. Werner and downtown Steamboat Springs as you maneuver S-curves and hairpin turns.
Children ages 2-6 can ride with an adult in one sled. Kids ages 7 and older can ride in their own sled. Sleds are controlled by a red handle, so riders can travel at their own speed. Purchase ride tokens at the Yurt before heading up the lift. The Yurt is a round tent building located at 645 Howelsen Parkway in downtown Steamboat Springs.
Winter Park
If you're looking for the longest slide in Colorado, head to the Alpine Slide at the top of Arrow Lift at Winter Park. This 3,000-foot bobsled-like slide has a vertical drop of more than 600 feet along a smooth, winding track. Take on the twists and turns as you navigate your sled downhill toward Winter Park Resort.
Children under the age of 5 years old can ride with an adult. No children under the age of 2 are allowed.
The alpine slide is one of the many activities included in the popular Activity Day Pass at Winter Park Resort. Other activities include a new scenic gondola, climbing wall, zip line, bungee trampolines, ropes courses, panning for gold and plenty of mountain biking and hiking trails. Individual ride tickets are available as well.
Purgatory Resort
In southwestern Colorado, the Inferno Mountain Coaster in Durango is a popular spot for thrill-seekers. The half-mile Alpine Slide at Purgatory Resort whisks riders through an abundance of dips, turns and switchbacks (including a 360-degree circle) as drivers drop more than 300 vertical feet. The track journeys through breathtaking panoramas of wildflowers and mountain views.
Drivers need to be 48 inches tall and at least 6 years old. Children at least 3 years old and 36 inches tall can ride with an adult driver. Maximum weight is 300 lbs.
There's plenty to do for the whole family on a summer getaway at Purgatory. Get unlimited Access to the Inferno Mountain Coaster as part of the Day Ticket plan. The deal also offers access to mini golf, a ropes course, a zip line and water runners, as well as unlimited chairlift rides and mountain bike uplift.
Park City
Families venturing to Park City, Utah, for summer fun are making plans to visit the 3,000-foot Alpine Slide, another exciting and lengthy ride. The track offers a luge-like experience, whisking riders down multiple tracks. The variety allows for a new experience each ride.
Families can access the ride via chairlift at Park City Mountain. Alpine slides are included in both the Adventure Day Pass and Adventure Season Pass. Single-ride tickets also available. Drivers must be at least 48 inches tall and at least 16 years old. Child passengers must be at least 35 inches tall.
Mount Hood
Looking for some heart-pounding action in the Pacific Northwest? The Alpine Slide at Mount Hood in Oregon offers a blazing half-mile track that cruises through a bevy of banked turns on its descent toward the Skibowl West ski area. The slide drops more than 350 feet and can reach speeds close to 20 miles per hour. For a real roller-coaster thrill ride, let loose of the break and you can reach upwards of 35 miles per hour.
Access the slide via the Scenic Sky Chairs lift at Mount Hood. Riders need to be 48 inches or taller, and be age 3 or older. Children under those requirements can ride with an adult driver. Tickets are available, and pricing is set for adults (18 and over) and children (ages 3-17).