Can't decide between the mountains and the beach for a summer vacation? It's a common question that vacationers ask when it's time to get away for some relaxation. A summer mountain vacation brings forth visions of tall, full trees with plenty of green, wildlife and grand scenery, and a whisk of fresh, cool mountain air. At the beach, you're more inclined to think of sand between your toes, hotter temperatures, sunburns and crowds.
In recent years, mountain resorts across North America have made a major push to attract summer vacationers by expanding the number of activities available for families, couples, younger travelers and seniors. While traditional outings remain popular – whitewater rafting, biking, hiking and golf – there's a whole slew of exciting, new adventures to explore. Today's list of to-do's also includes thrilling alpine coasters and slides, scenic gondola rides, long boarding and skate parks, SUP, and tons of fine dining and nightlife choices.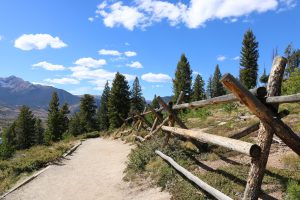 A summer vacation to the coast or an island can be expensive. If you're looking for a less-pricey option, take a closer look at a mountain getaway, where you can get more bang for your buck. Below, we compare the pros and cons of each to help you decide.
CLIMATE
Obviously, the first difference is the temperature. A beach vacation is warmer and more humid. A common misconception is that it's not sunny in the mountains. In fact, you'll need to pack that sunscreen for a mountain trip as well. If you plan on being outside while in the mountains, you'll definitely come home with a tan. Enjoy the cooler temperatures and shade in the mountains, along with fresh air with almost zero humidity.
At the beach, you'll desperately need that air conditioning unit to be on blast 24/7. In the mountains, you can open your windows at night for some fresh, cool mountain air that can dip into the high 50s and 60s. During the day, it will warm up to about 75-85 degrees Fahrenheit, depending on your destination. If you live and die by the A/C, never fear. Major mountain resorts offer air conditioning as an option as well.
CROWDS
We touched on this point earlier. The classic summer beach vacation is going to be more crowded, grueling, and full of parking woes. Major beaches will be packed all summer, especially on the weekends and holidays. Beach hotels can inflate prices due to demand, and many vacationers end up staying blocks or miles away from the sand and water. If you're lucky, you might be able to see the water from a distance from your hotel room.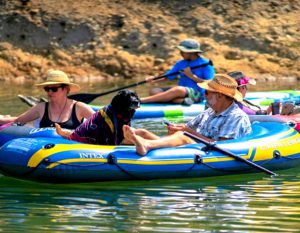 Since major mountain resorts are mostly designed for skiing, almost all of the lodging choices are mountainside with big views and close to everything. Couple that with the fact that it's way less crowded, pricing is slashed in the summer and there's plenty of other discounts available and it's easy to see why more and more travelers and picking the mountains. (As usual, we recommended booking your lodging and travel as soon as possible, especially if you are planning to travel over the main summer holidays like Memorial Day, July Fourth and Labor Day. Also, be sure to check your destination for specific events during the summer that may draw larger crowds, if you're trying to avoid them. )
ACTIVITIES
There's a beach. And water. Maybe a volleyball net. Need an umbrella. Sandy shoes and sandy butt. You get the drift. Sure, there's a bit more to it, but not much. A beach vacation can offer many different experiences, depending on where you go. Each one seems to have its own gimmick. In contrast, a summer vacation to the mountains provides an extensive list of to-do's.
Outdoors: Alpine coasters and slides, ATV outings, fly-fishing, golf, gondola and chairlift rides, hiking, horseback riding, hunting, long boarding and skate boarding, mountain biking and off-road biking, nature tours and photography, paragliding, rock climbing, scenic drives, star gazing, tennis, whitewater rafting, wildlife viewings and yoga.
Indoors: Cultural events and festivals, ballet, casual and fine dining, historical tours and talks, kids events, live music, museums, nightlife, notable appearances and speeches, pubs and microbrews, and shopping.
HEALTHY CHOICE
A trip to the mountains if often a more healthy choice. The mountain lifestyle lends itself more to healthy living. Did we mention all the activities you'll be doing? In addition, there aren't as many fast-food restaurants at mountain resorts. Sure, they are there, but there's plenty of homegrown healthy options as well.
But don't worry: There's plenty of delicious indulgences in the mountains as well, including chocolate, ice cream, fried goods and artisan candies. If you're looking to break away from the big, corporate chain monopolies and go local, you'll love the unique selection the mountain towns have to offer.
DISCONNECT
No, man. That John Denver wasn't full of it. He knew what he was talking about.
The mountains are a special place, kind of like an all-natural nature detox and rejuvenation. It's a place where you put the phone down and reconnect with what's important in life. Those who escape to the mountains often return home reinvigorated, with a renewed zest and passion for life. It's a great place to recharge your battery for another trip around life's racetrack.
OTHER PROS & CONS
Looking for a few more reasons to choose the mountains over the beach for a summer vacation?
Wild animals in the mountains. Wild parties at the beach. Have you ever seen an elk or mountain sheep in their natural environment? But hey, if keg stands are still your thing …
Enjoy crystal clear waters in a cool mountain stream. Dip your toes in. It's a completely different feeling than most murky, salty ocean waters at the beach. If you'll looking for a real thrill, challenge the river in a kayak or whitewater raft. It's an unforgettable family experience.
Way less pollution and crime in the mountains.
Your Instagram followers and Facebook friends will appreciate your epic mountain and river shots much more than your hammer toe at the beach.
If you have fair skin, the mountains are your best bet.
A change in altitude has also shown benefits to those who have breathing problems. (If you have breathing issues, please consult your physician about your intended destination before planning any vacation.)