When summer hits and temperatures rise, more and more travelers are heading to the mountains for a cool getaway; it's how to beat summer heat! A vacation in the mountains provides a break from the excessive everyday heat during the summer where you live. The dog days of summer arrive in late June, July and August, and everyone is looking for a way to beat the heat.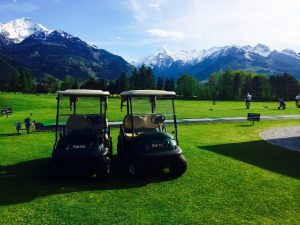 In North America, temperatures can reach 100 degrees Fahrenheit as far north as New York City on the East Coast. In the South, the humidity rises and becomes practically unbearable near Houston and New Orleans. Atlanta and Miami can get hot and crowded, too. In the West, the Los Angeles metro area gets balmy with rising temps and bad air quality. And don't even think about going to Las Vegas or Phoenix if you're looking to stay cool.
Travelers who live in these areas and need to get away are heading to the mountains more and more. In the past decade, major ski resorts in North America have expanded the number of adventures available during the summer. As far back as 10 years ago, some resorts in North America offered few summer outings. Most activities were of the traditional variety – hiking, biking and whitewater rafting.
The recent success of mountain resorts in the summer is two-fold. First, the sheer number of activities has increased dramatically. Second, the addition of summer festivals and other popular destination events keeps the calendar full of things to do all season long.
SUMMER ADVENTURES
All of old favorites – hiking, biking and whitewater rafting – are still popular with vacationers. Today, expect to see a large selection of hiking trails in varying difficulty, so there's something for everyone. There are easy trails that are great for jogging strollers and young hikers, but there are also challenging expert trails for those looking for a challenge. In the world of biking, there's a wide array from which to choose – everything from speedy downhill road biking to thrilling mountain bike paths and parks. Whitewater rafting as a group activity is still very popular, and individual kayaking is also a growing sport.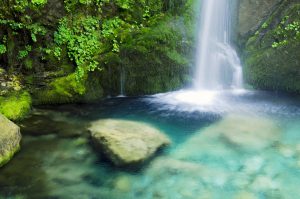 While golf has been a popular for decades, it continues to evolve and grow with the addition of new courses and the improvement of several others. Golfers looking to play a world-class round with an amazing backdrop are heading to the mountains where their ball flies further and is how to beat the summer heat!
Here are some other adventures worth a look:
Gondola and chair lift rides: Yes, the same gondolas and chairlifts used for skiing and snowboarding in the winter can give you a lift in the summertime. Soak in the scenery from the safety of your gondola cabin as you ascend the mountain. Many gondolas come with Wi-Fi connectivity, so you can rock out on your smart phone while you head to the top.
Alpine coasters and slides: At the top of the mountain (following a gondola or chairlift ride), there's plenty to do. Climb on a sled and head down an alpine coaster for a real thrill ride, or feel the fun rush of heading down a mountain slide. It's fun for all ages.
Water parks and "adventure zones": There are plenty of indoor/outdoor water parks and other adventure zones in the mountains. Each vary in size and scope, but fun times are practically guaranteed. If you have younger children, this is something to look for when planning your vacation. Indoor parks allow an option in case of bad weather, or if you have a sunburn or just need a break from the sun.
Skate parks: Long boarders and skateboarders rejoice! There are tons of great skate parks and downhill skate routes in the mountains. Grab your board and head to the hills, where the ride is always sweeter on the way down.
Fly fishing: Crystal clear waters await your cast. Put on your waders and try your hand at fly-fishing in a majestic roaring river at many mountain resort locations. There are plenty of guided and self-guided tours available for all ages and skill levels. Equipment rental and lessons also available. Hunting/fishing combo packages are also popular at most major resorts.
Yoga and palates: A vacation is supposed to be about relaxation, right? Restore your inner Chi and rejuvenate your mind, body and spirit in the total relaxation of the mountains. There are plenty of options ranging from hot yoga to beginner's palates classes.
Luxury spas: Now we're talking total relaxation. If your vacation is truly "down time," then why not kick it a luxury mountain spa? Check out the variety of treatments and pamperings available, and you'll never want to leave.
Fine dining and nightlife: Cap off any fun day with some great cuisine at a fine-dining mountain restaurant. Take in the views while you sample five-star cuisine with friends and family. From steak to sushi, there's something for everyone. In many cases, summer pricing at these restaurants is more favorable than winter pricing.
FESTIVALS AND EVENTS
Many vacationers plan their trip around a popular summer festival or event. There's a lot to choose from all over the map. Here are a few popular options to assist in your planning.
Crested Butte Wildflower Festival: There's a lot going on all summer in Crested Butte, Colorado. Take in more than 300 events ranging from hikes and walks to garden tours and butterfly/bird watching.
Mammoth Motocross: Experience the oldest continuing running motocross event in the United States at Mammoth Mountain in California each June. Watch the world's top professional and amateur riders test their skills, and party hardy at the Village Bash and Village After Party with live music and drink specials.
Squaw Valley Art, Wine & Music Festival: if you're near Lake Tahoe in July, head over to the Squaw Valley Art, Wine & Music Festival and get your fill or arts, crafts, wine and music. This two-day annual event has a plethora of performances, wine tastings and other fun fare.
Steamboat Hot Air Balloon Rodeo: Vacationers to Colorado can get a lift each July at the Steamboat Hot Air Balloon Rodeo in Colorado. Watch the brightly-colored balloons float through the mountain air above Bald Eagle Lake. While you're there, be sure to check out the annual Art in the Park festival that coincides with the hot air balloon rodeo.
Vail International Dance Festival: Get ready to cut a rug at the Vail International Dance Festival in Colorado in late July. The international event is one of the top summer dance destinations in North America, and features a big variety of dance styles, including ballet, theater and street dance.
If live music is your jam, the summer concert lineup at most major mountain destinations is pretty impressive. Most major headliners make it a point to hit the cool mountain air for a break during their summer tours. Here are some of the best music festivals in the mountains.
Jazz Aspen Snowmass Labor Day Experience: Big names and big mountains. Join industry headliners and legends over Labor Day weekend in Aspen, Colorado, for the JAS Labor Day Experience. Past performers include John Mayer, No Doubt, Portugal the Man and Mumford & Sons.
Copper Mountain Music Festival: Each July, grab a cold brew and rock out to bluegrass and Americana music at the annual Copper Mountain Music Festival. There's plenty of jam sessions, live performances, workshops and outdoor activities for kids and adults alike.
Telluride Bluegrass Festival: Join the biggest names in bluegrass each June at Telluride in southwest Colorado. The main stage at 8,750 feet above sea level in the San Juan Mountains provides a unique setting for bluegrass legends to perform. Past performers have included Sturgill Simpson, Leftover Salmon, Béla Fleck, Christ Thile and Mark Rowan.
Mammoth Festival of Beers and Bluesapalooza: Spread out across two stages, Bluesapalooza brings a smorgasbord of blues, R&B, soul and rock to Mammoth Mountain in California each summer. Enjoy the flavors and refreshment of more than 50 world-class craft breweries and a number of other tastings.
Grand Teton Music Festival: The Grand Teton Music Festival each summer in Jackson Hole, Wyoming, showcases the finest in classical music at events like Patriotic Pops on July 4 and weekend Festival Orchestra concerts.
Killington Music Festival: Music fans on the East Coast can head to Rutland, Vermont, each summer for the some of the best classical music in the world.