Glenwood Caverns Adventure Park is a thrilling destination that promises an unforgettable summer experience. Nestled in the heart of the Rockies in Glenwood Springs, this amusement park offers an array of exciting rides and activities for all ages. From breathtaking swings to exhilarating roller coasters, the park caters to adrenaline junkies seeking a rush of excitement. But it's not all about thrills — Glenwood Caverns Adventure Park also boasts family-friendly attractions, such as gondola rides and 4D motion theaters. Additionally, outdoor enthusiasts can enjoy zip lines, hiking trails, and stunning views of the surrounding landscapes. Get ready for a summer of fun at this captivating adventure park!
Thrilling Rides
Get ready for an adrenaline-pumping adventure as we delve into the thrilling rides at Glenwood Caverns Adventure Park. First up is the Giant Canyon Swing, a true testament to the meaning of "epic." This swing will take you to new heights, both literally and figuratively. Suspended high above the park, you'll experience an intense swinging motion that will leave your heart pounding and your breath taken away. It's the perfect ride for thrill-seekers looking for an exhilarating and unforgettable experience.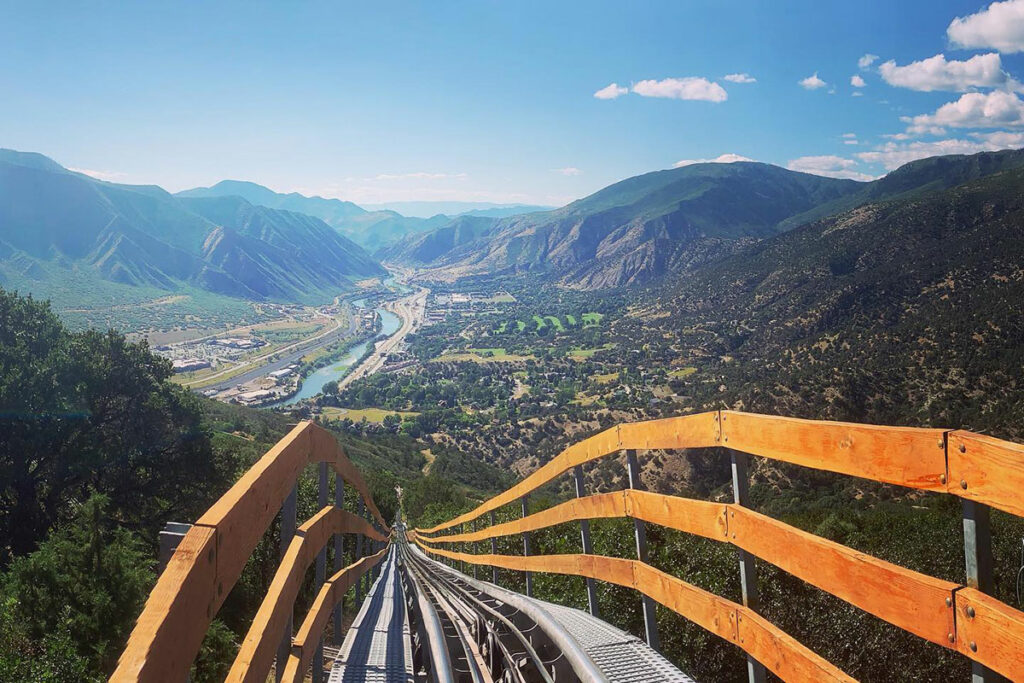 Next, let's explore the Cliffhanger Roller Coaster. This coaster will push your limits as it twists, turns, and drops quickly. Feel the rush of wind in your hair as you navigate sharp curves and unexpected drops while taking in breathtaking views of the surrounding mountains and valleys. It's a roller coaster ride that combines adrenaline and natural beauty in perfect harmony.
But the excitement doesn't stop there. Prepare yourself for the Alpine Coaster, a unique single-rider roller coaster that puts you in control of your speed. Feel the rush as you navigate the twists and turns, accelerating or decelerating at your own pace. This outdoor coaster offers an unmatched thrill and a chance to soak in the fantastic scenery as you zip through the tracks.
Family-Friendly Attractions
At Glenwood Caverns Adventure Park, fun knows no age limits. One of the must-try attractions is the Glenwood Gondola ride. Hop aboard and ascend to new heights while enjoying panoramic views of the surrounding mountains and the picturesque Glenwood Springs. The gondola offers a relaxing and scenic experience, making it perfect for families to enjoy together.
The Haunted Mine Drop is a must-visit attraction for a thrilling yet family-friendly adventure. Enter a world of suspense as you descend deep into a haunted mine shaft, only to experience a sudden and exhilarating drop. This unique ride provides a spooky atmosphere without being overly scary, ensuring it suits younger visitors.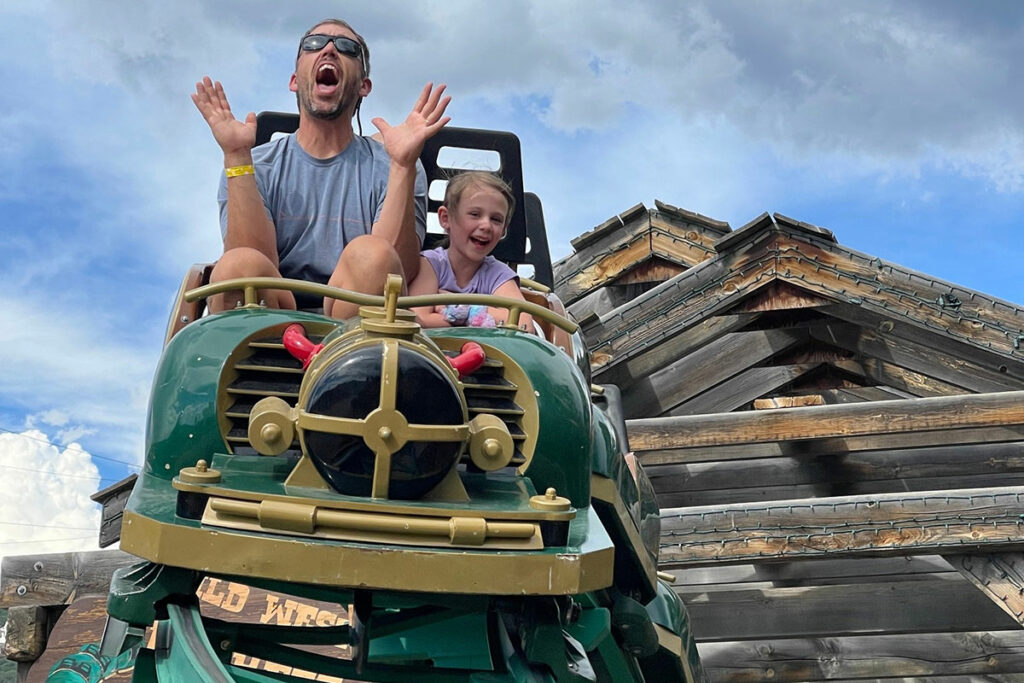 Another attraction that's bound to captivate both kids and adults is the 4D Motion Theater. Immerse yourself in a multi-sensory movie experience where you'll feel the wind, water, and even the motion as you watch thrilling films. With various family-friendly movies, this attraction guarantees an interactive and entertaining experience for the whole family.
These family-friendly attractions at Glenwood Caverns Adventure Park offer a perfect balance of excitement and enjoyment for visitors of all ages.
Outdoor Activities
Glenwood Caverns Adventure Park not only offers thrilling rides and family-friendly attractions, but it also invites visitors to embrace the great outdoors. One of the standout outdoor attractions is the Glenwood Canyon Flyer. Prepare yourself for a swing like no other as you soar through the air with breathtaking momentum. Feel the rush as you swing back and forth, taking in the stunning views of the surrounding canyon. It's an outdoor adventure that combines thrill and natural beauty in perfect harmony.
The Soaring Eagle Zip Ride is a must-try for those seeking a different kind of aerial experience. Strap in and zip through the skies, feeling the wind against your face as you take in the scenic vistas below. This exhilarating zip line ride offers a unique perspective of the park and its surroundings, making it a memorable experience for adventurers of all ages.
In addition to the rides, Glenwood Caverns Adventure Park also provides ample opportunities for hiking and exploring nature. Embark on one of the surrounding trails and immerse yourself in the breathtaking landscapes. From lush forests to stunning overlooks, the park offers a picturesque backdrop for outdoor enthusiasts.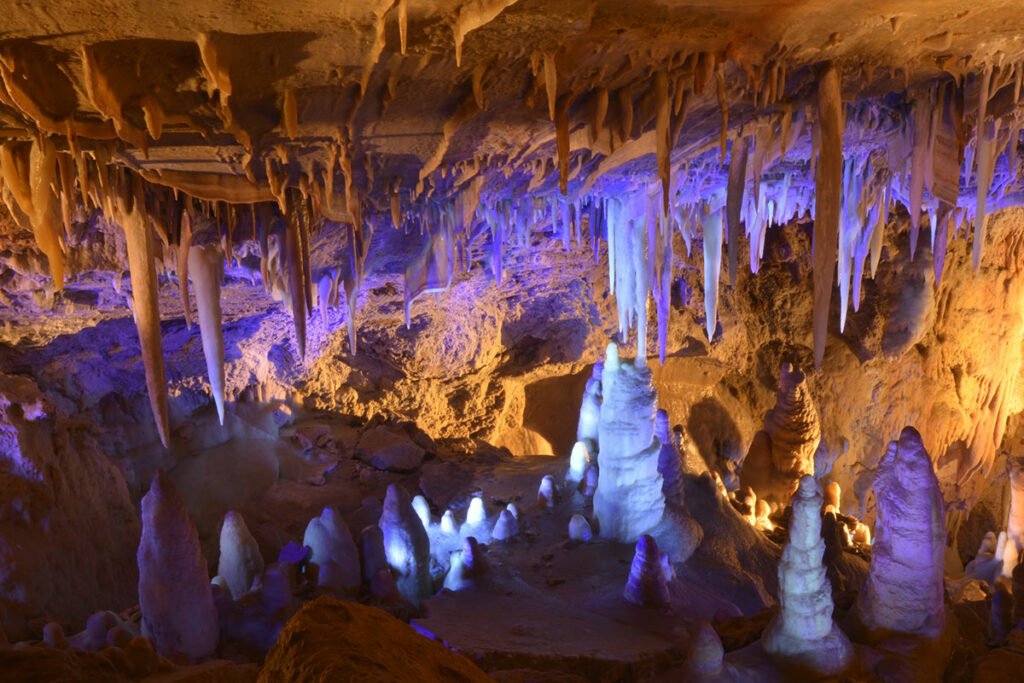 Whether you're seeking the thrill of swinging through the air, gliding on a zip line, or embarking on a nature hike, Glenwood Caverns Adventure Park invites you to embrace the beauty of the great outdoors. These outdoor activities offer a refreshing and awe-inspiring experience that complements the park's other attractions, providing visitors with a well-rounded and unforgettable adventure.
Dining and Entertainment
Glenwood Caverns Adventure Park promises thrilling rides and outdoor activities and ensures visitors have access to delightful dining options and entertaining experiences.
When hunger strikes, you'll find a variety of dining options to satisfy your cravings. The park offers diverse food and beverage choices, whether you're in the mood for a fast bite or a leisurely meal. From tasty snacks to hearty meals, there's something to please every palate. What's more, many dining locations provide scenic views, allowing you to enjoy your meal amidst the beauty of the surrounding landscapes.
In addition to dining, Glenwood Caverns Adventure Park offers live entertainment and exciting events. Immerse yourself in the lively atmosphere as you watch captivating performances and shows. From music to magic acts, there's always something happening to keep you entertained. The park also hosts seasonal or special events, adding extra excitement to your visit.
Whether you're indulging in delicious food, enjoying live entertainment, or participating in special events, Glenwood Caverns Adventure Park's dining and entertainment offerings add a vibrant and enjoyable element to your overall experience. Take a break from the thrill rides and outdoor activities to relish the delectable cuisine and engaging entertainment options at the park.
Summary
Glenwood Caverns Adventure Park is an ultimate summer destination that offers visitors a broad range of fun rides and activities. From heart-pounding thrills on the Giant Canyon Swing and Cliffhanger Roller Coaster to family-friendly attractions like the Haunted Mine Drop and 4D Motion Theater, there's something for everyone to enjoy. The outdoor activities, including the Glenwood Canyon Flyer and Soaring Eagle Zip Ride, provide a unique perspective of the park's natural beauty.
Remember to take advantage of the dining options and live entertainment available at the park, adding to the overall experience of your visit. And if you're looking for ways to make your Glenwood Springs vacation even more affordable, be sure to check out Destination Deals. We offer a variety of deals, discounts, and promo codes to help you save on your adventure at Glenwood Caverns Adventure Park and other attractions in the area. Plan your trip, gather your family and friends, and get ready for a summer filled with unforgettable moments at this exciting adventure park!