Denver residents seeking a day escape from the Mile-High City can head 30 miles west along Interstate 70 to Idaho Springs and plan a thrilling day of whitewater rafting in the Rocky Mountains.
Sometimes it can be hard to get away from the big city, but Clear Creek is easily accessible and perfect for a day trip getaway. And – with specials and deals from our website – you don't have to spend a lot of money for some great action surrounded by nature.
Whitewater rafting is a fun outing for families, small groups and individual adventure seekers. A typical whitewater raft can accommodate eight to 12 riders, so you can plan to meet new people or fill up your own raft with family and friends. Either way, be prepared to smile, have lots of fun, see beautiful scenery and get wet!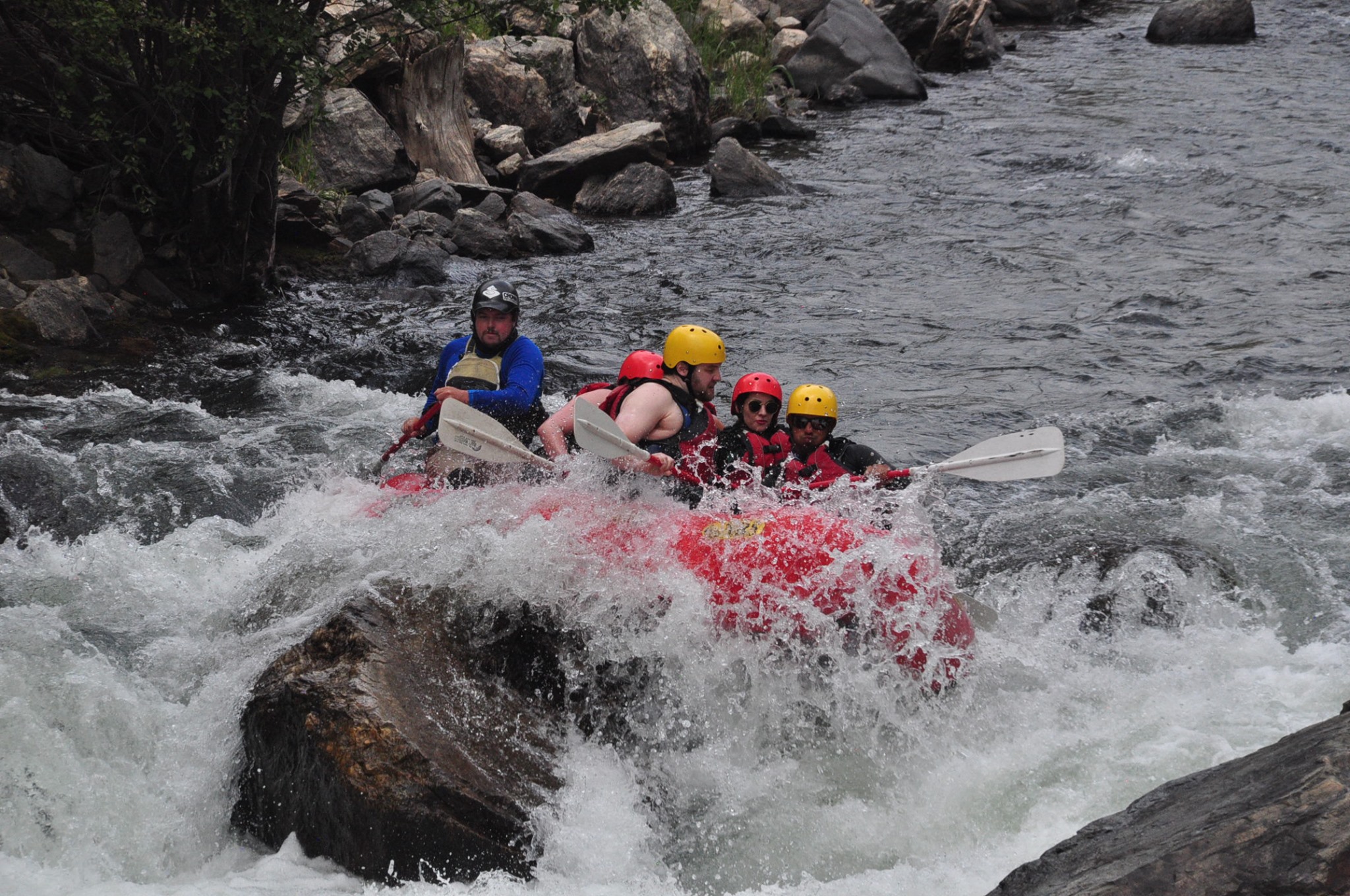 What Makes Clear Creek Special?
Local river guides love navigating Clear Creek. First, the creek is high up in the drainage, so it's steep in sections. Second, it is rapid all the way down, so it's one of the more entertaining rivers to ride.
There are diverse sections of the river – the Upper, Middle and Lower – so there's something for everyone, from beginners as young as age 5 to adventurous seniors who are fit enough to make the journey. Upper Clear Creek is rated intermediate while the Middle section is ideal for beginners who want a pleasant first outing. Lower Clear Creek is strictly for advanced goers and can get awfully wild.
Clear Creek Whitewater Deals
There are lots of excellent whitewater rafting companies in Idaho Springs and Empire that provide exciting day trips on the river. Here's a complete list of featured vendors in the area with some notes about their services this season.
Raft Masters
Long or short, Raft Masters has trips of varying length on either the Arkansas River or Clear Creek. The company prides itself on its top-notch adventures and competitive pricing that includes some sweet discounts on our website.
Right now, adventure seekers can save 20% off Clear Creek raft trips when booking online with our exclusive promo code. The outfitter is also presenting a $15 off coupon for trips and packages on the Arkansas River when you book online.
Performance Tours
Performance Tours has a nice selection of trips ranging from laid-back floats and family-style whitewater trips to advanced rapids for expert thrill seekers. The company operates a shop in Idaho Springs and has locations in Breckenridge, Buena Vista and Royal Gorge.
Currently, Performance Tours is serving up one of the best deals online: Save 20% off all whitewater trips when you book online through our website. To help keep you dry in the river, the outfitter is throwing in a free wetsuit rental for each rider.
MAD Adventures
Book a whitewater trip with MAD Adventures and choose from a variety of packages for all experience levels. You'll get everything you need and have an awesome time on Clear Creek. Choose from Class I floaters to Class IV thrillers, and everything in between.
Before you book, peek at our site for some deals or discounts. You can save 10% today on full-day and half-day trips when you use our exclusive promo code and reserve your spot online.
Downstream Adventures
Downstream Adventures on East Park Avenue in Empire not only has thrilling whitewater adventures but is also premiering a new fly-fishing excursion this season aimed at novices. Fly-fishing trips will take place in the canyon along Highway 6 near the new walking path that provides easy access to the river. The "walking and wading tour" is a half-day outing aimed at visitors who want to give fly-fishing a go. For discounts, head over to our site.
Presently, rafting enthusiasts can save 15% off their Clear Creek rafting trip by booking online with our promo code as part of this exclusive deal. You won't find this coupon anywhere else! Head on over to our site and make plans – a wet suit, life jacket and free lunch is included with each purchase.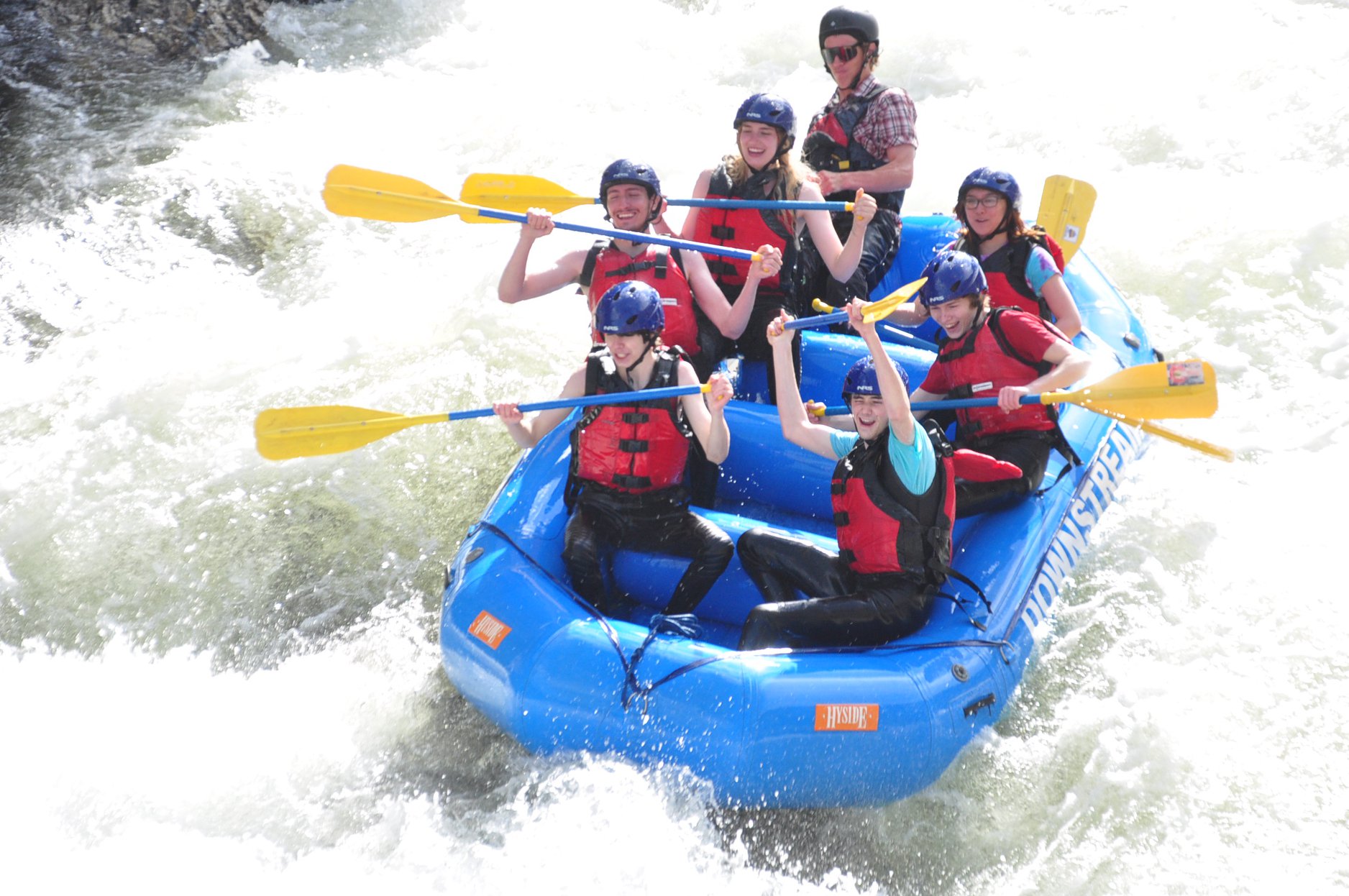 KODI Rafting
Plan a half-day or full-day excursion with KODI Rafting and pick from beginner and intermediate rafting trips or more challenging adventures that will have your hair standing on end. Find deals, coupons and bargains on our website to save money.
Hit the water for a day trip or a half-day and save with Kodi Rafting in Frisco. Right now, you can save 20% off all whitewater rafting trips with our exclusive discount code. Book online in advance and save! You can plan a fun family trip on Clear Creek or browse other options and craft a unique outing that everyone will remember!
Clear Creek Rafting Company
Offering quality whitewater trips on Clear Creek and the Arkansas River, Clear Creek Rafting Company has adventures for everyone and a dedicated and hardworking staff. During the season, the company offers several deals and discounts.
Lock in the best price for a Clear Creek whitewater adventure by booking online with our promo code. Simply enter the code at check-out and save! Clear Creek Rafting Company on Whitewater Road in Idaho Springs is currently honoring a 15% off coupon for all rafting excursions on Clear Creek. As an added bonus, all riders get free digital photography services with each trip. That's a $60 value!
AVA Rafting & Zipline
AVA Rafting & Ziplines has world-class whitewater rafting on Clear Creek and seven other majestic rivers in the Rocky Mountains. The company offers boundless whitewater adventures and other outings like train rides, horseback riding, fly-fishing, rock climbing and zip line tours. Check our website for some spectacular savings during the season.
AVA Rafting and Ziplines is perfect for a full day of fun in and out of the river. When your ready to take to the river, complete the transaction online with our promo code and you'll save 20% off any third-day, half-day, ¾ day and full-day whitewater rafting trips. This across-the-board savings makes it easy to get a little more time in the river with your friends and family. Save some money and bump up to a half-day from a third-day or opt for the full-day adventure for only slightly more than the ¾ day when you're saving 20%!
Liquid Descent
Liquid Descent has whitewater packages available for beginners and seasoned enthusiasts at one of the most thrilling areas in the state to get your rapids fix. The company often offers promo code discounts for adventures throughout website.
Right now, save 20% on half-day adventures on Clear Creek! From splashy fun to Class IV rapids, there's a little something for everyone. Wet suits, splash jackets and helmets are provided. This is the best whitewater deal online from Liquid Descent!