What do Colorado ski resorts do all summer long? Well, that's a great question. Decades ago, bustling winter ski villages turned to ghost towns during the summer months after all of the snow melted. Despite the occasional hiker or bike enthusiast, there wasn't much to do other than sight-see. In the past, a typical summer getaway to the mountains usually meant long car rides looking out the window, with periodic stops along the way for the obligatory family photo.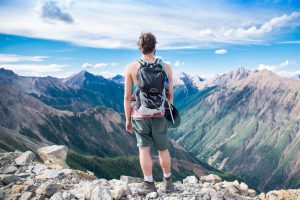 A summer vacation to the Rocky Mountains today is vastly different. In recent years, major ski towns in Colorado have developed a summer slate of activities and events that's chock-full of adventures for families, couples, seniors and kids. Hiking and biking paths have been expanded and improved for safety, and there's still plenty of sightseeing and photography opportunities.
There are plenty of great destinations close to Denver that are perfect for a day trip or long weekend getaway, and there are other locations, like Aspen Snowmass, where you can either drive or fly in to the local airport on a major airline. Let's take a closer look at some top Colorado ski resorts that are perfect for summer fun, too. Don't forget to check our site for coupons that lower the cost of your visit to these mountain towns!
ASPEN & SNOWMASS
A little place called … Aspen. It's world famous, and there's a reason why. Big, beautiful and spectacular, all while maintaining a classic mountain charm, Aspen and nearby Snowmass offer an abundance of summer fun for all ages.
Aspen is about a three-hour drive from Denver. You can drive over the Continental Divide and through the impressive Independence Pass and White River National Forest to get to town, or you can fly right in to the airport just five miles outside of town.
While there, make plans to visit the majestic Maroon Bells just outside of town. The twin peaks are one of the most photographed subjects in North America. Ride the Silver Queen Gondola to the top of Aspen Mountain, or take the Elk Camp Gondola to the top of Snowmass Mountain for another fun adventure. If you're brave enough, challenge your kayaking skills at the famous Slaughterhouse section of the Roaring Fork River, or book a thrilling whitewater trip that's more suitable for family and friends.
Plan your summer vacation around the Jazz Aspen Snowmass Labor Day Experience if you're a fan of live music, or make plans each June to attend the highly-coveted Food & Wine Classic. At nights, enjoy five-star dining at 8,000+ feet above sea level and some of the best nightlife that Colorado has to offer. There are more than 100 bars, restaurants and nightclubs in the Aspen Snowmass area.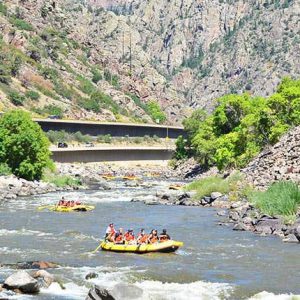 BRECKENRIDGE
Breckenridge is another town that is full of arts, culture and diversity. The popular Arts District showcases local and international artists in varying disciplines including painting, sculpting, literature, theater and filmmaking. The town oozes art at every turn as you walk around it's adorable downtown district and Riverwalk Center, loaded with live music, museums, and galleries.
Destinations have raved about Breckenridge for years, but it's also a great place to visit in the summer. It's an easy drive from Denver, which makes it great for weekend getaways for those in the foothills or the big city.
Outdoor adventure awaits in Breck! Try your skill at the award-winning 27-hole Breckenridge Golf Club, designed by Jack Nicklaus. Take the whole family to Epic Discovery, and spend the day riding the Gold Runner Coaster and alpine slides, or fly above the trees on the Expedition Zipline Tour or take on the Alpineer Challenge Course.
The Breckenridge Summer Beer Festival in July is a popular event that showcases some of Colorado's best brews, and the Breckenridge Food & Wine Festival in late July is another hot ticket. The Breckenridge Film Festival each September is a growing event that celebrates achievements in cinema and filmmaking.
COPPER MOUNTAIN
Copper Mountain Resort has no shortage of summer experiences, and is the only resort in the state to offer free gondola rides for adults in the summer on the scenic American Eagle Lift. During the warm-weather months of June through September, Copper Mountain is also a haven to bikers, with beginner, intermediate and expert courses and terrain available, along with a ride-for-free gondola deal for eats and treats at the Village.
There's also plenty of scenic views and hiking along the Colorado Trail. The Copper Creek Golf Course offers a links challenge at an affordable price, or play nine holes of mini golf at the base of the mountain. Check out the bumper boats and bungee jump, or ride the new alpine coaster or have fun go-kart racing at Diggler's. If you're looking for something truly unique, check out the Mac & Cheese Fest each July at Copper Mountain.
Copper Mountain is only about 80 miles from downtown Denver, so it's perfect for a quick getaway, or if you're looking to fly in to Denver International Airport. Eagle County Regional Airport at nearby Vail is another convenient flight option. Breckenridge and Copper Mountain are very close to one another. You can drive from Breckenridge to Copper Mountain with a stop along the way in the quaint town of Frisco. Plan to spend a few days at both resorts to get a taste of the real flavor of mountain life.
CRESTED BUTTE
Crested Butte has a bunch of family-friendly activities during the summer months, including exciting whitewater rafting and kayaking in the Taylor River. There's also a Robert Trent Jones II-designed golf course and plenty of hiking and biking opportunities. Guided and non-guided fly-fishing adventures, along with hunting and hiking, round out the robust list of summer must-do's.
The Crested Butte Music Festival brings six weeks of lively music to the mountains each summer with plenty of performances ranging from Classical to Gypsy Jazz.
Crested Butte is a four-and-a-half hour drive from metro Denver via U.S. Highway 285 and U.S. Highway 50. Be sure to check out the nearby town of Gunnison for additional lodging and dining options, and there's even an airport. Gunnison International Airport offers non-stop service from major airlines.
ESTES PARK
Estes Park is a popular getaway with plenty to do and see. First, take a stroll through the adorable downtown district to see the eclectic selection of galleries, retail shops and other local vendors. Then, relax by the downtown river walk and watch the perfect crystal-blue mountain stream go rippling by. There's also Lake Estes, a brewery with tours and samples, golf, horseback riding and plenty of restaurants and nightlife. And don't forget to swing by the historic Stanley Hotel, the inspiration for the Overlook Hotel in Stephen King's book "The Shining."
Experience a true wonder of North America on a journey through Rocky Mountain National Park along Trail Ridge Road from Estes Park to Grand Lake. The trip takes you through the longest stretch of highway above the tree line in North America. Take in the awesome scenery and natural wildlife while you travel through the magnificent, tender tundra of Rocky Mountain National Park. Stop off at the Alpine Visitor Center at the Continental Divide for refreshments, great views and more photo opportunities. Grand Lake is a cute town with a great selection of local fare. It's perfect for a day trip from Estes Park.
Estes Park is an easy 80-mile drive from Denver International Airport through the town of Lyons. Another route is via U.S. 34 through Loveland and Big Thompson Canyon.
OURAY & SILVERTON
Vacationers looking for something different are giving Silverton a go. Hailed as one of "America's Most Charming Towns," Silverton offers a true flavor of the Old West in the San Juan Mountains in southwestern Colorado.
Get your fill of summer fun in the surrounding San Juan Mountains. The Weminuche Wilderness Area offers the state's largest wilderness area with three mountain peaks over 14,000 feet above sea level while a 50-mile stretch of the Continental Divide slices through the park. If you're into ATVs or Jeeping, this is your playground. For a unique day trip, head over to the town of Ouray to do some more exploring. It's been dubbed the "Switzerland of America." Plus, the San Juan Skyway is regarded as of the most scenic drives in North America. And don't forget to visit the natural hot springs if you really just want to relax.
Boasting some of the best air quality in the United States, Silverton is a historic town full with a rich history of mining, dating back to the 19th Century. Silverton Mountain Ski Area opened for skiing in 2002. In the summers, it's bike park is a popular attraction, while other prefer the relaxation of a scenic chairlift ride.
The town is about a six-hour drive from Denver, and can be accessed via I-70 to Glenwood and then south on U.S. 50 through Delta and then U.S. 550 south to Silverton, or south from Denver on either U.S. 285 or I-25 to U.S. 50 West. The town of Durango is just south of Silverton on U.S. 550 and has additional lodging and dining options. Those looking to fly have plenty of options at nearby airports in Montrose, Telluride, Grand Junction and Durango.
TELLURIDE
Known for its massive snows during the winter months, Telluride is another ski resort that's a fun destination in the summer. This classic mountain town has a charming downtown with a 19th Century feel, complete with Victorian-era homes, cute retail shops and boutiques, an opera house and delectable restaurants.
The Telluride Film Festival takes center stage over Labor Day weekend each summer, but the summer is chock-full of fantastic events like the Jazz Festival and Blue & Brews. There's also hiking, biking, whitewater rafting, a scenic year-round gondola, a ghost town, a wide variety of spa treatments and an 18-hole championship golf course.
Telluride is only a short drive from Silverton and Ouray. Several major airlines provide service to the Telluride airport.
VAIL & BEAVER CREEK
Vail and Beaver Creek are key destinations during the winter for skiing and snowboarding. Summer months provide a buffet of outdoor adventure ranging from dude ranches to whitewater rafting and kayaking. Only 100 miles west of Denver and right along I-70, it's an easy destination that requires little time in the car. Eagle County Airport, 30 miles west of Vail, also provides another viable transportation option.
Tee up and one of 11 nearby golf courses or get the view from above on a hot air balloon ride. There's excellent fly-fishing and mountain climbing, too. Stroll the Village and shop the many boutiques, or take in an outdoor concert in the cool mountain air. Kids and families will love the educational Discovery Center and Gore Range Nature Science School. At Adventure Ridge, play a round of disc golf or search for bones at the Dino Dig. To relax, ride the Eagle Bahn Gondola and view three mountain ranges along with some unbelievable flora and fauna.
WINTER PARK
Just north of I-70 on U.S. Highway 40 about an hour and a half west of Denver are the towns of Winter Park and Fraser. Winter Park offers prime skiing during the winter, and there are plenty of experiences and adventures in the summer as well. The two towns are surrounded by three wilderness areas: Byers Peak/Vasquez, Indian Peaks and the Arapahoe National Forest.
The High Country Stampede and Rodeo on Saturdays in July and August is a must-see. Test the high altitude at one of three great golf courses – Granby Ranch, Grand Creek or Pole Creek. There's also plenty of shops, boutiques and museums to explore. For thrills, ride Colorado's longest alpine slide. To chill, check out the Zephyr Scenic Chairlift Ride.