Heavy snows in the winter get rafters excited about the coming spring and summer. Because that is when all that melting snow turns Colorado rivers into a whitewater wonderland. For decades, whitewater rafting and kayaking have been favorite summer adventures. Recent heavy winter snowfall has only added to the growing popularity. Whitewater season peaks in late May, June, and July, when snow runoff brings the state's rivers to an exhilarating swell.
As a result, there are more ways to go rafting in Colorado than ever. Rafting companies are responding with some incredible deals. There are more than 100 deals and discounts for rafting discounts and deals in Colorado alone! Here, there's a bargain for everyone from the first-time family group to the most seasoned expert kayaker. Adventures range from leisurely Class I family floats suitable for all ages to Class V mind-benders. Most professional guides offer half-day and full-day experiences throughout the state.
Colorado River
The state of Colorado offers so many fantastic river adventures that it's hard to narrow the list. It's easy to recognize the historic Colorado River. It has its origins high in the Rockies before it meanders through Colorado, Arizona, and the Grand Canyon before dumping into the Sea of Cortez. While the Colorado River is perhaps the most well-known of all the rivers, plenty of other prime waters flow through the Rocky Mountains. This lengthy river offers several spots of varying difficulty, so it's not hard to find something for everyone.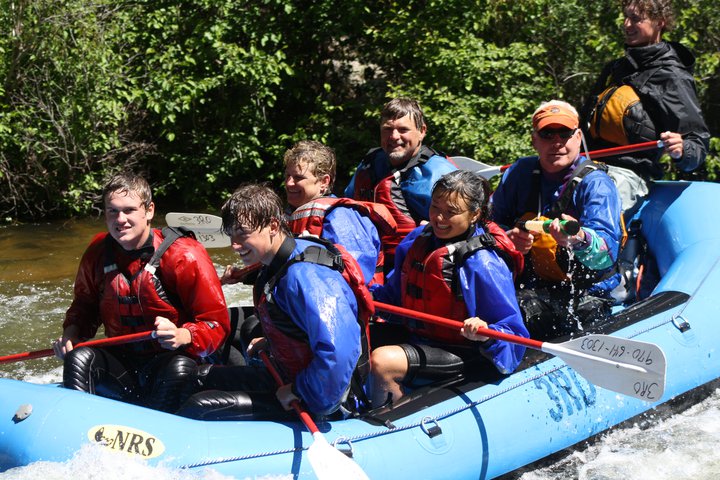 Whitewater outings on the Upper Colorado River can begin at Gore Canyon near the town of Kremmling. Up here, the rafting is very demanding and rated between Class IV and Class V for most of the section. (The higher the Class, the more advanced the rapids are.) There is a more mild stretch just further down river near Little Gore Canyon, with Class II and Class III rapids. The river continues through Lower Gore Canyon and Dotsero as a Class II before picking up steam near Glenwood Canyon, where it can reach Class IV levels. Full-day and half-day outings are available.
There are plenty of other options for whitewater rafting and kayaking in the state. Let's take a look at some other popular destinations:
Arkansas River (Royal Gorge)
While the Colorado River usually takes the Number 1 spot on any whitewater list, it's usually followed closely by the Arkansas River at Number 2. The Arkansas River is located near Denver and Colorado Springs, so it is easily accessible at many points. The river presents a plethora of whitewater excursions, including the famous Royal Gorge, only a 30-minute drive from Cañon City. Royal Gorge is best known for its suspension bridge that rests 955 above the Arkansas River. Take in the unbelievable scenery as you float down the river with 1,200-foot canyon walls on each side.
Along the Arkansas River, you'll find world-class whitewater rafting. There are full-day and half-day excursions available with varying difficulties. Most sections rate between Class II and Class IV, with some parts that rate Class V. The most family-friendly river areas are near Bighorn Sheep Canyon. Some companies even provide professional photographers to help document your epic adventure. Many plans are customizable depending on your personal preferences and skill level. Lower Browns Canyon is excellent for beginners to get their feet wet. Other parts of Browns Canyon are perfect for intermediate rafters looking to take on Class III or Class IV rapids. There are even overnight rafting excursions available that include hiking and camping.
Clear Creek River (Idaho Springs)
Clear Creek River is a popular whitewater destination right off of I-70 at Idaho Springs, only a short drive west from Denver. It's a popular day trip because there are manageable sections for families and beginners but also more challenging steep segments with advanced risk. Families looking for a bit of excitement will love the thrill of the quick ride through Clear Creek Canyon. It's a shorter excursion that is perfect for a half-day getaway.
Poudre River (Fort Collins)
The "Poo-der" is a popular spot near Fort Collins. Its formal name – the Cache la Poudre River – comes from the French language, but leave your beret at home if you plan on challenging this formidable section of rapids. The river is best for intermediate to expert rafters and kayakers, and a guide is needed in most instances. But if you're up for it, plan on taking in some majestic scenery on a half-day or full-day excursion – if you can take your eyes off the river for long enough. The Poudre is the only river in the state that is federally designated as a National Wild and Scenic River.
Eagle River (Vail/Beaver Creek)
All the snow from Vail Mountain melts right into the Eagle River, providing exciting rapids in a more open setting. Newbies love it because it gives the thrill and excitement of whisking down a free-flowing river. There are also more challenging sections for intermediate and expert rafters. A half-day outing on the Upper Eagle River will get you in the water for about two hours. This area of the river is classified as Class II whitewater with a few Class III rapids. It's perfect for families, youth groups, or scout troops looking for an adventure.
Those looking for something more intense should check out Dowd Chute, a quarter-mile stretch at Down Junction. It offers the most significant drop on the entire river. A string of Class III rapids follows this renowned rapid. It is the perfect thrill ride for those with the intestinal fortitude to take it on. Half-day trips are available.
Roaring Fork River (Aspen)
Don't miss some of the best rafting if your headed to Aspen and the Roaring Fork Valley. It's located along the majestic Roaring Fork River. The Upper Roaring Fork is an adrenaline-filled gut-check, while the Lower Roaring Fork is way more mellow. Those willing to test their mettle can take on the "Slaughterhouse" section of the river just outside Aspen. Check out the Class III-rated half-day race course, a medium-difficulty section with plenty of thrills. If you want something more leisurely, look at a Lower Gorge half-day outing, which offers sightseeing and a relaxing ride.
Gunnison River (Gunnison)
Twisting and turning through the Western terrain, the Gunnison River offers an abundance of whitewater options. You can choose from short half-day outings to longer trips through canyons and gorges. If you're seeking a more private, authentic experience, then check out Gunnison Gorge. Near the town of Almont, you'll need a donkey or horse to haul your gear down to the river. In the city of Gunnison, there are plenty of rafting companies to get you on your way.
Taylor River (Gunnison/Crested Butte)
Also accessible near Gunnison is the Taylor River. Taylor River has some friendly trips through Taylor Canyon, where you can see Collegiate Peaks. You can access the river at Crested Butte. Half-day and full-day trips are available.
North Platte River (Fort Collins/Steamboat Springs)
The best-kept secret might be the North Platte River near Fort Collins and Steamboat Springs. Rafters love to drop near the town of Walden for an exciting trip that winds through wilderness and wildlife. Great for a one-day getaway, the North Platte River has half-day and full-day outings from several providers.
Animas River (Silverton/Durango)
Strap on your gear extra tight if you want to test the Upper Animas River. It is one of the most challenging rapids in North America. Therefore, you must be in peak physical condition and at least 16 years old to take the challenge. If you're ready, head to the Upper Animas near the town of Silverton. If you're not prepared for that, run to the Lower Animas near Durango for a more tame experience.
San Miguel River & Yampa River (Telluride)
Also, in the southwest part of Colorado, the San Miguel and Yampa rivers are perfect for a family getaway. Both have beautiful scenery with plenty of forests, red rocks, and lots of natural beauty. Parents love the relaxing float trips, and kids will be amazed at the natural archeological beauty along the way. While there are stretches of exciting rapids, excursions near Telluride are considered more "float" than "ride."